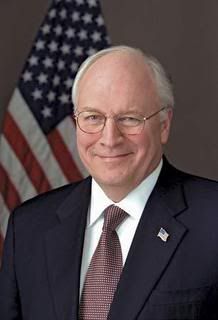 That's right, folks. Dick Cheney is in town today to attend a high-dollar fundraiser for fellow Republican Ken Calvert.
You may remember Ken from his 1993 arrest for soliciting a prostitute in Corona. Or maybe it's from his 2006 designation by the Citizens for Responsibility and Ethics as one of the "20 Most Corrupt Members of Congress" because of his use of earmarks for personal gain and his connections to lobbying firm, Copeland, Lowery, Jacquez, Denton and White, currently under federal investigation.
Dick's had a troubled past himself, if you do recall. He's got the Enron scandal, the Valerie Plame CIA leak, his almost-impeachment by Dennis Kucinich in 2007, the time he accidentally shot 78-year-old Harry Whittington in the face, all sorts of fun stuff! Perhaps that's how they bonded.
Any way, some people are upset by this GOP hobnobbery, so they're having themselves a protest. And guess what? You're invited to attend.
If interested, bring a sign and join the OC Democratic party and friends today at 2:15 p.m. at Trestles State Beach parking lot (5 South to Christianitos Rd.; left at stop sign and go over the freeway. Make a left at the next stop sign and the parking lot is on your right-hand side). At 3:00 p.m. the group will march to La Casa Pacifica.
For more info, email info@socdc.org or call 949-234-0020.