Car keys, check. Protein bar, check. Sleeveless workout shirt, check. Reebok Classics laced up tight, check. Short-shorts, neon green…double check.
There comes a time in every man's life when he must answer the call to greatness. For my friend Garret and I, that call rang loud and clear with only five words: American Gladiators open call tryouts. We knew the road would be tough, long and full of medical waivers that would pretty much sign our lives away, but we didn't care. This was a golden opportunity to live out every AG fan's dream: a chance to scale the Eliminator obstacle course on national television, butt heads with giants and the possibly shake hands with Hulk Hogan while wearing spandex. Garret would be joining me on this quest as my super sexy wingman, assistant, PR manager and water boy.
]
It was around 8 a.m. Saturday when we got to the back of the line for the try outs. Right away, I was a little bit stunned. I guess since it was OPEN try-outs I figured it would be a little bit more of a freak show conga line than it actually was. More of an American Idol type scenario.
Though my county-grown athletic superiority was no doubt obvious to my LA competition, I could sense that everyone in line was intense, in shape and actually serious about winning a chance at pugil stick stardom on NBC primetime.
Garret: Super Sexy Wingman and Water Boy
Besides the hundreds of people waiting to try-out, it was actually a pretty busy day at the convention center. You'd think that hosting a talent search for the world's most kickass physical challenge would be enough, but no. In the same giant hall, they were holding an Iron Man weight lifting competition, sumo wrestling and Jujitsu demos and a fitness expo packed with booths filled with silicone-pumped goddesses and spray-tanned Goliaths selling everybody pills and smoothies.
After about an hour and a half waiting in line, some staff members for the show told about a hundred people, including us, to come back in an hour because the line was clogging up traffic inside the fitness expo. It seemed like a shitty break for us, but we decided to walk around and check out the scene.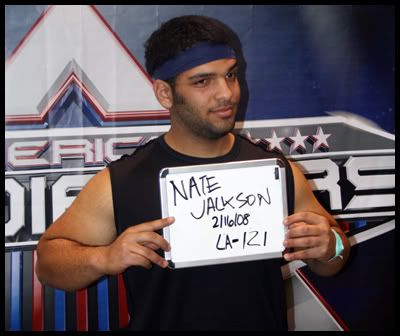 Nate Jackson: Ready for his close-up
The place was crammed with people like a flea market on steroids. There was everything from a Gladiator-style pugil stick battle station, to muscle supplement vendors, to a spray-on tanning center where people lined up to get doused with Crayola orange.
One of the highlights of the morning was comparing biceps with Jesse "Justice" Smith, a one of the new American Gladiators. Sure, he maybe 6'8 and 290lbs. but he was actually pretty nice guy. It's a shame I have to dominate him when I step into the Gladiator arena this season.
Jesse "Justice" Smith
When Garret and I finally got back to the AG try-out area, my heart was pumping like mad. I approached the admission table and handed in my application. The time had come and I was ready.
In about a three to five minute period, they put each person through a variety of physical drills. They started me out with 30 seconds-worth of timed pull-ups (I did about a thousand or so). Next, we moved on to some agility drills like leg cross-over karaokes and something called "burpies" in which you alternate between standing straight and push-up position in lightning speed. It was exhilarating to feel the wind up my shorts as I dominated the competition in side-to-side 20 yard sprints, child's play for a trained athlete such as myself.
Next up was the true challenge: the one-on one interview with a talent scout. Fortunately for me, my fireball of charisma was not extinguished by any physical fatigue. After all, it doesn't matter how fit you are if you can't win the heart of America in front of the camera. We talked, we laughed, we cried and I told her my most precious secrets.
In short, I had the speed, the strength, the quickness, the charm, the friend support and the best looking shorts out there. I'm expecting my call back any day now.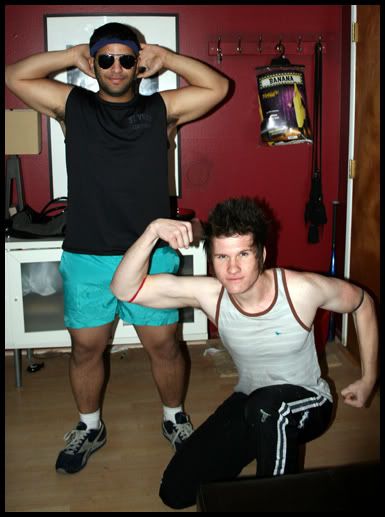 Nate Jackson is one of OCW's finely-chiseled interns. He resides in Yorba Linda and attends Cal State Fullerton.