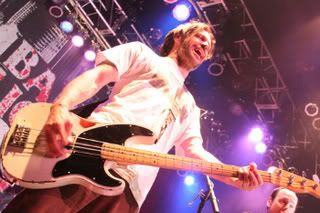 Last night marked the final weekend for Bad Religion's relentless assault on the Anaheim House of Blues.
Since February 29, the elder statesmen of Los Angeles punk have embarked on a blistering "World Tour of Southern California" packing in sweaty, fanatical fans night after night. Los Angeles, San Diego and Vegas HOB's have also been in on the action. With the support of brutal thrashers Death By Stereo and fresh faced beach punkers The Darlings, the energy on stage created enough spark in Downtown Disney to light a fire cracker in Mickey's ass. . . maybe even a few Roman Candles.
As the crowd trickled onto the main floor for the opening act, The Darling's were going full-speed ahead on stage with their slick brand of power chord chugging and AFI style chanting. The vibe in the darkness was a bit flaccid during the songs, but hey, they were opening for Bad Religion and Death By Stereo, so I doubt they really minded that much. However, they got some good hoots and hollers from the crowd after every song. Their sound, a dash of old-school style with a thick lacquer of new-school polish, will mostly likely translate into some solid radio airplay on KROQ someday.
Around the time the Darlings made their exit, one couldn't help noticing the influx of bros positioning themselves near the heavy stage curtain. The Death By Stereo crowd was poised, shirtless and ready for some extreme skull-crushing, borderline homo erotic slam dancing. Don't get me wrong, I'll jump in the pit for a good punk song any day. It's just that some fans are a little less about the music and a little more about showing off their sweet tribal bands and Old English tats.
DBS's front man, Efrem Schulz, was in perfect psychotic form that night as he emerged on stage in a neon jacket that resembled a radioactive banana peel. From the opening song, fans went crazy for Dan Palmer (guitar), Tyler Rebbe (bass) and Chris Dalley's (drums) full throttle thrash that barely even let up for their entire 45-minute set. Punk-O-Rama classics like "Lookin' Out For #1," "The Plague" and "Wasted Words" carried the kind of fury and musical ability that will keep fans buying their records.
Sure, they may be aging, they may look like college professors and lead singer Greg Graffin may actually be one (at UCLA), but Bad Religion is one of those bands with a millennium shelf life.
Scratchy hoots, hollers and fists filled the emptiness above the crowd the minute the Bad Religion's blood-spattered banner emerged from the stage curtain. Behind the gravelly voice of Graffin, original members Jay Bently (bass), Brett Gurewitz (guitar), Brian Baker (guitar), Greg Hetson (guitar) and Brooks Wackerman (drums) were a distorted wall of sound as they churned out tunes that jumped all over the band's lengthy time line.
Man, where to start? Talking about Bently's ripping opening bass line during the song "Slaves," Baker's classic punk solos or Wackerman's wailing snare on "Latchkey Kids"? How about the near-death experience I had in the pit during the classic "Generator" where I found myself dangling upside down in my attempt at a crowd surf? Basically, if you weren't at the show last night. . . you fucked up.
At this point, the saying "punk just ain't what it used to be" is as much as of a novelty as the glossy, formulaic crap that spews out of the scene today. For the generation that got the last sniff of the real shit (late 80's-90's), Bad Religion's music will always draw a gritty circle pit and a roaring crowd chorus.