So you wanna be a foreign correspondent. . .
Friday, January 4, 2008 at 7:52 a.m.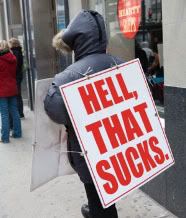 Journalists aren't winning any popularity contests these days. Reporters Without Borders released its annual Press Freedom Round-up Wednesday with the following boldfaced title: 86 journalists killed in 2007 - up 244% over five years!!! (Exclamation points mine.) CBC.ca notes that this is the highest the count has been since the 103 media deaths in 1994, "which saw the Rwandan genocide, civil warfare in Algeria and fighting in the former Yugoslavia."
In 2002, 25 journos were slain, and RWB has seen a steady incline over the years. The 2006 count was freakishly close to 2007, with 85 deaths. Not surprisingly, most of last year's killings (47) were right out of a place that starts with an I and ends with a Q. Yet one more reason to withdraw, folks. The Middle East correspondent is joining the endangered species list.
Other stats noted by CBC.ca
* 887 journalists were arrested, with China and Cuba cited as having the highest number of reporters behind bars. * 1,511 journalists were physically attacked or threatened. * 67 journalists were kidnapped. * At least 2,676 websites, many of them discussion forums, were shut down or suspended by government authorities worldwide. * 65 cyber-dissidents remain imprisoned worldwide. * At least 14 journalists continue to be held as hostages, all in Iraq, as of Jan. 1, 2008.
P.S. We like the sound of "cyber-dissident."
Click here for a full list of the fallen. Rest in peace, folks.
Get the ICYMI: Today's Top Stories Newsletter Our daily newsletter delivers quick clicks to keep you in the know
Catch up on the day's news and stay informed with our daily digest of the most popular news, music, food and arts stories in Orange County, delivered to your inbox Monday through Friday.
Recommended for You
Powered by SailThru