One Less Haidl in Prison
Friday, January 25, 2008 at 9:31 p.m.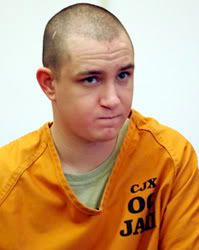 Sometime on Saturday, according to the OC Register, Greg Haidl will be released from prison.
He is being released early because he was given automatic credit for good time and work time while in prison and for the time he served in the Orange County Jail before his sentencing, according to Bill Sessa, a spokesman for the California Department of Corrections.
How heartwarming to know that our Department of Corrections and/or Rehabilitation gives sex offenders an incentive to play nice-pervert in prison. The comments on the Register article are less than welcoming - the citizens of San Clemente have even been warned to monitor the Meghan's Law website.
For the planet's finest coverage of how Haidl and his coevals gang-raped an unconscious girl with a Snapple bottle, a pool cue and a lit cigarette, we look to none other than our own R. Scott Moxley - see the catalog BY CLICKING HERE.
Get the ICYMI: Today's Top Stories Newsletter Our daily newsletter delivers quick clicks to keep you in the know
Catch up on the day's news and stay informed with our daily digest of the most popular news, music, food and arts stories in Orange County, delivered to your inbox Monday through Friday.
Recommended for You
Powered by SailThru