Last chance for pre-rehab Small World
Friday, January 18, 2008 at 7:22 a.m.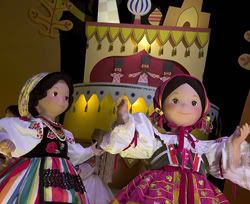 Y'know how Disneyland announced they'd be fixing up "It's A Small World" to accommodate fatties? (OK, Mickey's still in denial, and a Mouse spokesman told the NYT the renovations "have nothing to do with weight," but we know better. Heck, even The Fat Lady's Guide to Disneyland recommends taking the whole seat for that particular ride.)
Anyway, the ride closes on Tuesday, Jan. 22nd, which gives us the holiday weekend to relive its old school charm before Disney ruins it like they did Hong Kong Disneyland's Small World - which includes characters like freaking MULAN.

Get the This Week's Top Stories Newsletter
Every week we collect the latest news, music and arts stories — along with film and food reviews and the best things to do this week — so that you'll never miss OC Weekly's biggest stories. Every week we collect the latest news, music and arts
In Case You Missed It