[The Sex Pistols are playing only one US date on their current tour. Ben Marcus went to Las Vegas to file this review of their opening date for Heard Mentality.]
Jonesy's Jukebox on Indie 103.1FM is a guilty addiction we'll have to live without for most the next three months—all summer long without a daily fix of Steve Jones' guitar strumming and gastrointestinal rhythm section (although Jones will be doing occasional broadcasts from a special studio set up in London). Last week as Jonesy did his last shows, he packed his guitars and T-shirts and sex toys, and hit the road for a three-month tour with the Sex Pistols. The pioneering '70s punk band have regrouped 30 years later and are following in the steps of the Rolling Stones, the Police, Yes, the Who and Led Zeppelin to push the parameters of "Too old to rock and roll, too young to die."
On June 7, the Sex Pistols played the Joint at the Hard Rock Hotel. This concert was "On for young and old" as the Australians say. There was a fairly equal mix of people in the crowd.
Sid Vicious is famously dead, and the current incarnation of the Sex Pistols is actually the original band: Glen Matlock on bass, Paul Cook on drums, Steve Jones playing guitar and Johnny Rotten singing. Anyone who listens to Jonesy's Jukebox regularly understands that this is the better deal, as Sid couldn't really play at all—Jonesy did all the bass parts for Never Mind the Bollocks. Sid was on stage because he looked good and then looked horrible. He was there to hit people on the head with guitars, spit blood on them and carve things into his chest.
Because of Sid, the Sex Pistols weren't always known for their punctuality. It's hard to make a gig when your bassist is in the hospital, with the words "Gimme a fix" self-etched into his chest with a razor. But that was then, and now, the Sex Pistols show started at 9 on the dot, following opening act Louis XIV, who didn't really connect with a crowd who was there to see legend. The Sex Pistols' set began with a recorded overture of "There Will Always Be an England," as searchlights crisscrossed the stage, looking for trouble. The roar of the crowd took on the timbre of Nazi bombers over London—until Steve Jones walked out on stage first, followed by the rest of the lovely lads, and the place went berserk.
Jonesy's radio guests politely describe him as robust, and while he was once the angry young man of rock and roll, he is now the Henry the VIII. Jones has put on a few (he talks about his weight struggles on his show) while Matlock and Cook looked like rock stars: fit and ready to rumble. Johnny Rotten came on stage looking like he had just rolled out of bed—a hospital bed. He had on a billowy top that looked like a 19th-century nightshirt, and his hair was messed up. Rotten is not as lean and mean as he used to be. These days his appearance morphs from a crazed Harpo Marx to Roman Polanski to Mickey Rourke to Doc from Back to the Future. Rotten came out singing a bouncy, cabaret version of "Pretty Vacant" and somewhere, the Rat Pack boys were smiling, because Johnny Rotten foremost is a great showman. He can work a crowd with the best of them and at the Joint he had 1,400 punk rock fans ready to drink his spit.
Which was a good thing, because if there is any element of the Sex Pistols that has been worn down by time, it is Johnny Rotten's voice. He is 52 years old now, and not capable of the sustained, wailing, beautiful banshee screeches he could belt out show after show during his youth.
After the cabaret version of "Pretty Vacant," the band launched into the real thing and for the next hour the Sex Pistols rocked the house. At one point, the band was playing the overture for "Anarchy in the UK," and Rotten told the crowd, "I want you to sing along with me on this. I hope you know the words because I bloody well might not." But the crowd was game, and they became a factor in the show, adding the weight of 1,400 voices to Rotten's vocals, and giving him opportunities to cruise, holding out the microphone to the audience as his throat recalibrated.
If you like this story, consider signing up for our email newsletters.
SHOW ME HOW
X
Newsletters
Steve Jones will never be confused with rock-guitar virtuosos like Jimmy Page or Pete Townshend, but what Jonesy puts behind his power chords is sheer joy. This is a guy who loves to play rock guitar. He is rightfully proud of the effect he has had on rock music, and the effect his guitar has on people. Jonesy was having a ball stage left. He played in front of cabinets marked with a red cross on a white background, which gave the subliminal message that these guys in their 50s might succumb at any minute from the excesses of their decadent lifestyle.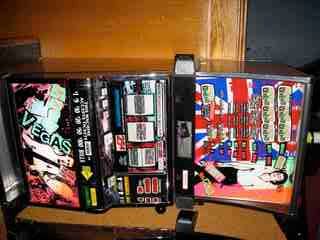 The Sex Pistols played their greatest hits: "Liar," "Submission," "Belsen Was a Gas," "Anarchy for the UK" and then came out for two encores: a cover of the Modern Lovers' "Roadrunner" and also "Silver Machine," a Jonesy favorite by Hawkwind that Johnny described as "Fuckin' 'orrible."
Toward the end of the show, someone on the second balcony said, "Pretty damned good, but no surprises. I thought they might have Jonesy do an Elvis impersonation and do 'Viva Las Vegas.'" A cute idea, but the 2008 Sex Pistols are not about parody. They are taking this seriously, and while Johnny referred to his band as "fat, boring old sods," the crowd wasn't buying it. If the Pistols were worried about making fools of themselves on stage, their concerns were swept aside tonight by the roar of the crowd and the resultant sing-along they engaged in.
Back in 1979, Neil Young sang in "My My, Hey Hey (Out of the Blue)," "It's better to burn out, than to fade away... this is the story of a Johnny Rotten." But the Sex Pistols have neither burned out nor faded away. They're back, they're bad, and Johnny Rotten is mad as a hatter. LA radio's (part-time) loss for three months will be the rest of the world's gain.