Last Night: Yacht @ OCPAC
Friday, June 27, 2008 at 12:23 p.m.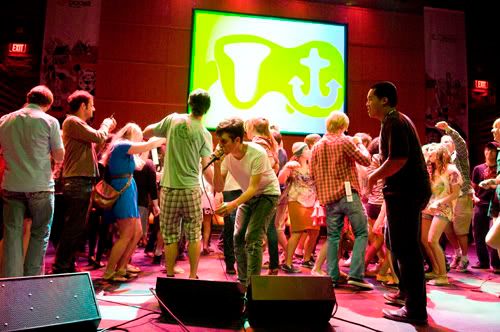 Last Night: Yacht at the Samueli Theater on June 26, 2008
Better Than: Playing Dance Dance Revolution and it burns more calories then Wii Fit.
Download: See A Penny (Pick It Up) from their album I Believe In You. Your Magic Is Real.
Is it art? Is it electro? Is it electro art? I'm not quite sure, but I do know that last night was an infectious dance party in the form of Yacht sailed into the Samueli Theater with support from Mika Miko.
Upcoming Events
Club soda, red telephone microphone, beach ball, saxophone and youthful rambunctiousness were some of the ingredients of Mika Miko. With the assistance of Dean Spunt from No Age on drums, Mika Miko tore through their set like the Tasmanian devil with a batch of furious punk-spiked tunes, each of which barely clocked over the two-minute mark. Jenna Thornhill put Bill Clinton to shame with her skills on the saxophone. "Business Cats" sounded like it came from the era of Black Flag and would have fit well on the Repo Man soundtrack.
Yacht—the dynamic duo of Jona Bechtolt (vocals) and Claire Evans (vocals)—deployed a large projection screen, two microphones, a laptop computer, and their contagious energy to create a memorable concert experience. Jona and Claire made up for the lack of live instrumentation with spastic performances and heavy crowd interaction. Jona would frequently jump into the crowd and mosh/dance his way through the throngs as he carved out his own spot on the dance floor.
"It's Coming To Get You" recalled some synthesizer patches from the 1980s as Claire and Jona harmonized while dancing up a storm. Jona was dressed like Don Johnson from Miami Vice for the projections while they tackled "Summer Song", which Jona mentioned will be released by the LCD Soundsystem-run label DFA. The track was a pulsating wave of cowbell, electronic drums and hand claps that made you move.
Jona and Claire also took out some time to answer some questions from the crowd. I learned that Yacht are inspired by the music creation programs of Ableton Live and Reason. The video for "See a Penny (Pick It Up) coincided with an 8-bit storm of sound that would make Nintendo fans drop their controllers and dance. Yacht sailed into the sunset with a Love Boat send off by inviting everyone on stage for one last shake-down. Don't miss the boat on Yacht.
Critic's Notebook:
Personal Bias: Any band endorsed by LCD Soundsystem is worthy of checking out.
Random Detail: Jona's penchant for the '80s was evident as he momentarily quoted some dialog from Back to the Future in between songs.
By The Way: Yacht will play the O2 Wireless festival in London with Fatboy Slim, Cut Copy, MSTRKRFT and Neon Neon.
View more photos of the event here.
Get the ICYMI: Today's Top Stories Newsletter Our daily newsletter delivers quick clicks to keep you in the know
Catch up on the day's news and stay informed with our daily digest of the most popular news, music, food and arts stories in Orange County, delivered to your inbox Monday through Friday.
Recommended for You
Powered by SailThru