OC Civil Rights Pioneer Alfred Aguirre Dead at 87
Friday, January 11, 2008 at 9:46 a.m.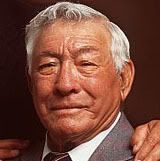 Let's hope the Orange County Register offers a fuller obituary for Placentia resident Alfred Aguirre than the two-byline rush job they printed today. Reporters Eric Neff and Heather McRea covered the main facts--Aguirre was indeed Placentia's first Latino councilmember (and the third in Orange County) and was involved in desegregating the city's schools--but Alfred also played a crucial role in Labor and Community: Mexican Citrus Worker Villages in a Southern California County, 1900-1950, UC Irvine professor Gilbert Gonzalez's seminal history of Latino orange pickers in la naranja. Alfred is also the father of Superior Court Judge Frederick Aguirre and uncle to Placentia councilmember Joseph Aguirre. Que Dios lo bendiga, Alfred, and the Weekly's condolences to the Aguirre family. Listen to this interview of Alfred that appeared on NPR's Weekend Edition this past September.
*UPDATE: Just got a call from Aguirre's nephew--the Register reporters couldn't even get Alfred's wife's name right. Pendejos.
Get the ICYMI: Today's Top Stories Newsletter Our daily newsletter delivers quick clicks to keep you in the know
Catch up on the day's news and stay informed with our daily digest of the most popular news, music, food and arts stories in Orange County, delivered to your inbox Monday through Friday.
Recommended for You
Powered by SailThru