How did Loretta Sanchez spend her Sunday?
Sunday, January 13, 2008 at 1:30 p.m.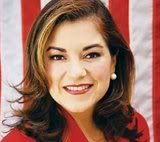 While the rest of Orange County hit the beach today or watched the San Diego Chargers upset the Colts (Yes!), Congresswoman Loretta Sanchez showed one reason why she keeps winning elections and annoying the local Republican Party. A clipboard-toting Sanchez--and three accompanying aides--registered new voters in her district that's gerrymandered through Santa Ana, Anaheim and Garden Grove. Wearing black pants and a red and white striped rugby shirt not befitting the 80 degree SoCal heat, our county's lone congressional Democrat, knocked on doors and chatted with residents with the enthusiasm of a rookie candidate. We haven't always been fans but it was nice to see that Sanchez, who doesn't appear to have a primary challenger, remembers the folks who send her to DC. Can you believe it was more than a decade ago that she defeated fiery conservative Robert K. Dornan? -- R. Scott Moxley / OC Weekly
Get the ICYMI: Today's Top Stories Newsletter Our daily newsletter delivers quick clicks to keep you in the know
Catch up on the day's news and stay informed with our daily digest of the most popular news, music, food and arts stories in Orange County, delivered to your inbox Monday through Friday.
Recommended for You
Powered by SailThru