Club Pick: Too Short with DJ Scene at Sutra
Wednesday, September 17, 2008 at 12:16 p.m.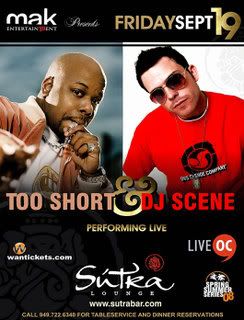 Attention Bay area beat junkies, club rats and weekend freaks! Friday is definitely your night to shine under the strobe lights of Sutra. Platinum rapper Too $hort will be unleashing a club bumping set in honor of turntable wizard DJ Scene's birthday bash. Since arriving on the hip hop scene in 1983, no other rapper has pioneered the art of the braggadocios gangster anthems quite like Too $hort. His masterful use of true life tales, racy rhymes and gangster flow has earned him a basket of platinum and gold records and the respect of hip hop fans all over the country.
Normally a $20 cover charge would cause most people eyes to bugle out of their skull. However, in this case, a back to back grind fest by Too $hort and DJ Scene is every club hoppin' playa's dream.

Get the ICYMI: Today's Top Stories Newsletter Our daily newsletter delivers quick clicks to keep you in the know
Catch up on the day's news and stay informed with our daily digest of the most popular news, music, food and arts stories in Orange County, delivered to your inbox Monday through Friday.
Recommended for You
Powered by SailThru