Club Pick: The Orakel Dynasty All-City Tour at Sachi Bar, Oct. 24
Wednesday, October 22, 2008 at 12:35 p.m.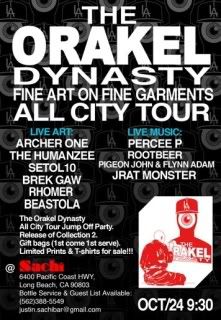 There's nothing sexier than people who know how to dance and look damn good doing it. Are you one of these people? Okay, well do you want to be? Sure you do.
Followers of Hip Hop culture and graffiti art fashions are in luck this week as Sachi Bar in Long Beach unleashes what could be it's most insane spray paint-inspired dance party of the year. Working in conjunction with Orakel Dynasty, a well known L.A. distributor of graffiti art fashion, Sachi hosts the company's "All City Tour Jump Off Party" on Friday, Oct. 24 at 9 p.m.
The club's multi-room set up has plenty of action in store for the night. Giant movie screens flashing movies and mixed media art are the backdrop to a night filled with neon beams and hip hip beats. All the latest Orakel Dynasty designs for guys and girls will be strutted down the runway in a fashion show. And Archer One, esteemed artist and owner of Orakel, is setting up shop along with a few others for a live art exhibition.
But of course, fine art fashion just ain't the same without fresh live acts. Orakel and Sachi still have you covered on that front. Rhyme sessions provided by revered L.A. emcees Percee P and Pigeon John are worth the drive even if your still rockin' the same Adidas you've had since high school (it's okay, we won't judge you). Make sure to tag this date on your calendar and get there early.
Get the ICYMI: Today's Top Stories Newsletter Our daily newsletter delivers quick clicks to keep you in the know
Catch up on the day's news and stay informed with our daily digest of the most popular news, music, food and arts stories in Orange County, delivered to your inbox Monday through Friday.
Recommended for You
Powered by SailThru