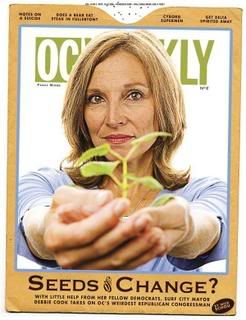 In "Seeds of Change?" Nick Schou interviews Surf City Mayor Debbie Cook about the task of taking on Dana Rohrabacher, OC's weirdest Republican congressman.
And "Moxley Confidential: Suicide Notes" has R. Scott Moxley explaining DA Tony Rackauckas and Sheriff Sandra Hutchens' skirmish over investigation of suspected-child-molester deputy.
Plus…
• The Weekly's standing columns, ¡Ask a Mexican!, Hey You! and Savage Love
• Restaurant reviews of Fullerton's Hungry Bear Restaurant and Cowgirl's Cafe in Santa Ana.
• Culture focuses on Costa Mesa's Box Gallery for 'Übermensch', Breath of Fire's 'W.A.C. Iraq' and the Newest Philip K. Dick Anthology From the Library of America While Trendzilla talks affordable 'Gossip Girl' prep-school chic and Game On dissects 'Castle Crashers' the game.
• Film reviews of 'Lakeview Terrace,' 'Ghost Town' and local special screenings
• Music features articles on Delta Spirit and the Race To Hell Tour. Rex Reason looks at Adrian Ross in Aural Reports, Locals Only listens to Mr. Xquisit, 'Hypnotix Muzik', and we've got CD reviews of Jenny Lewis, 'Acid Tongue' (Warner) and Mogwai, 'The Hawk Is Howling' (Matador)
And more daily at OCweekly.com