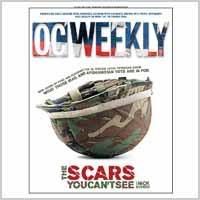 In "Scars You Can't See," Nick Schou
introduces local vets of earlier wars who say they know what the new Iraq and Afghanistan PTSD sufferers are in for.
Matt Coker, Vickie Chang, Daffodil J. Altan recap election night in "Orange County Sings the Obama Blues."
While R. Scott Moxley entertains us with another edition of "Moxley Confidential: Who Hired This Crew?" describing indicted ex-OC sheriff Carona's putting the outcome of his trial on the hope that jurors find him to be an angel among thieves.
Plus…
• The Weekly's standing columns, ¡Ask a Mexican!, Hey You! and Savage Love.
• Restaurant reviews of Costa Mesa's Hidden Kitchen at Rooster Cafe and Pollo de Oro in Fullerton.
• Culture focuses on OCMA's 2008 "California Biennial" and interviews NYC playwright Johnna Adams about coming through Orange County to get famous. Trendzilla talks Purikura (a.k.a. giant expensive Japanese photo booths) and Game On dissects 'Guitar Hero: World Tour.'
• Film reviews of 'Role Models,' 'Soul Men' and local special screenings.
• Music features articles on Voltaire and the 88's. Rex Reason looks at Baltimore DJ Charles Feelgood in Aural Reports, Locals Only listens to Stanleylucasrevolution, 'Evolutionary Sunset Call', and we've got CD reviews of Shiny Toy Guns, 'Season of Poison' (Universal Motown) and Q-Tip, 'The Renaissance' (Universal Motown).
And more daily at OCweekly.com