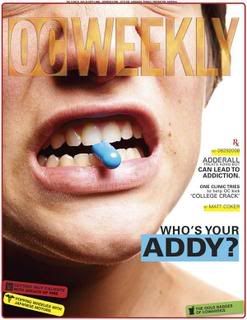 In "Who's Your Addy?" Matt Coker looks at Adderall. It's hailed as a "miracle drug" for ADHD sufferers. But they're not the only ones using it. One South County clinic is trying to help OC kick "college crack."
In "This Is Your Brain On Adderall" Matt Coker looks for someone to explain to our readers how Adderall actually works, chemically speaking, and finds his own son, Dustin Coker—who not only is a research assistant in a UC Irvine study involving ADHD and psychostimulants, but who also grew up with ADHD.
In "Moxley Confidential" R. Scott Moxley reveals how the OC media is being asked to ignore still-emerging dirt on Carona's PSR mess at the sheriff's department.
In "Toeing the Line" Nick Schou interviews perennial Democratic candidate Paul Lucas, who says he's still in trouble for playing footsie with the Republicans.
Plus…
• The Weekly's standing columns, ¡Ask a Mexican!, Hey You! and Savage Love
• Restaurant reviews of Jaqu's in Huntington Beach and Kasela Grill in Anaheim.
• Culture focuses on Bike Curious at Santa Ana's Go, Rilla! Gallery, Latina Theater Ensemble's New Works Festival, Trendzilla talks Designer Richard Chai, and Game On dissects Game-Changer
• Film reviews of Traitor' 2 and local special screenings
• Music features a review of Costa Mesa locals Japanese Motors, The Long Beach Blues Festival, Rex Reason looks at nightlife maven Sean Francis in Aural Reports; Locals Only listens to Daniel Morones, 'The Situation' and new CD reviews of Conor Oberst, 'Conor Oberst' (Merge) and The Bug, 'London Zoo' (Ninja Tune)
And more daily at OCweekly.com