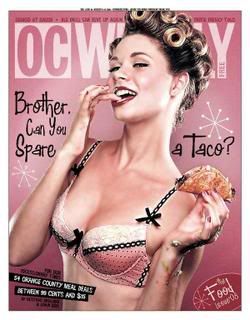 In our annual"Food Issue 2008" Edwin Goei and Gustavo Arellano investigate cheap food for our recessionary times, by highlighting 54 Orange County meal deals between 99 cents and $15.
In "Moxley Confidential" R. Scott Moxley looks at the California Highway Patrol and their vanishing ethical impurities, bad math and more.
In "Getting Soaked" Daffodil Altan looks at Santa Ana Unified School District. Do they have the money to save hundreds of jobs it cut?
Plus…
• The Weekly's standing columns, ¡Ask a Mexican!, Hey You! and Savage Love
• Restaurant reviews of Michael's On Naples in Long Beach and Naz Kabob in Fountain Valley.
• Culture focuses on 'Tiki FREAKout' Art Show at the Light Gallery, Rude Guerrilla's 'Nocturne,' Skater boy fashion to the Max and the French laughing in the face of video games as a sport
• Film reviews of Bottle Shock, Pineapple Express and local special screenings
• Music features Dave Segal's final 'Sprawl of Sound' column about the OC music scene, OC Pop-Punks Big Drill Car; Houston's Indian Jewelry; Rex Reason looks at Garden Grove-Based Online Shop Smartpunk in Aural Reports; Locals Only listens to Courtney Chambers and read new CDs, Paramount Styles, 'Failure American Style' (Konkurrent) and PAS/CAL, 'I Was Raised on Matthew, Mark, Luke N Laura' (Le Grand Magistery) are reviewed
And more daily at OCweekly.com