Wine & Ice Cream Tasting
Friday, August 31, 2007 at 5:28 p.m.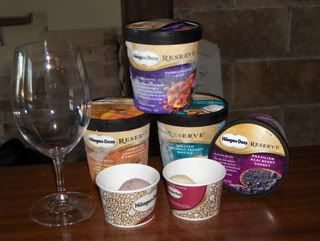 When I first heard about the unusual pairing of wine and ice cream, honestly it sounded like a stomach ache waiting to happen.
Then again, I'm one of those people who likes to try weird and possibly gross food, so I decided to check it out.
The four-course tasting was held at the Wine Gallery in Corona Del Mar, and I have to say it was a little weird, but not gross at all.
The pairings were complex and absolutely delicious.
I snagged one of the menus, in case any of you have adventurous palates and want to try it for yourselves (All the ice cream is Haagen-Dazs Reserve).
1. 2005 Honig Late Harvest Sauvignon Blanc paired with Brazilian Acai Berry Sorbet *this one was my favorite
2. 2003 Castelnau Suduiraut Sauternes paired with Toasted Coconut Sesame Brittle Ice Cream
3. Warre's Otima 10 Year Old Tawny paired with Pomegranate Chip Ice Cream and a Pinot Noir reduction
4. Yalumba Museum Reserve Muscat paired with Hawaiian Lehua Honey & Sweet Cream Ice Cream with a Chardonnay reduction
The next wine & ice cream tasting will be held at the Southern California Wine Festival September 8 & 9.
Get the Food & Drink Newsletter
Our weekly guide to Orange County dining includes food news and reviews, as well as dining events and interviews with chefs and restaurant owners.