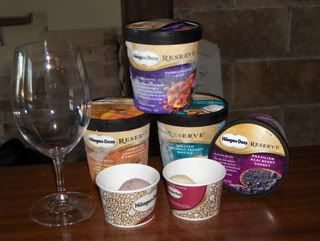 When I first heard about the unusual pairing of wine and ice cream, honestly it sounded like a stomach ache waiting to happen.
Then again, I'm one of those people who likes to try weird and possibly gross food, so I decided to check it out.
The four-course tasting was held at the Wine Gallery in Corona Del Mar, and I have to say it was a little weird, but not gross at all.
The pairings were complex and absolutely delicious.
I snagged one of the menus, in case any of you have adventurous palates and want to try it for yourselves (All the ice cream is Haagen-Dazs Reserve).
1. 2005 Honig Late Harvest Sauvignon Blanc paired with Brazilian Acai Berry Sorbet *this one was my favorite
If you like this story, consider signing up for our email newsletters.
SHOW ME HOW
X
Newsletters
2. 2003 Castelnau Suduiraut Sauternes paired with Toasted Coconut Sesame Brittle Ice Cream
3. Warre's Otima 10 Year Old Tawny paired with Pomegranate Chip Ice Cream and a Pinot Noir reduction
4. Yalumba Museum Reserve Muscat paired with Hawaiian Lehua Honey & Sweet Cream Ice Cream with a Chardonnay reduction
The next wine & ice cream tasting will be held at the Southern California Wine Festival September 8 & 9.