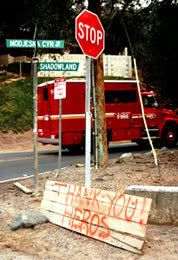 "Thank you heros" read a the words in neon orange, painted onto a plank propped against the corner of Modjeska Canyon Road and, ominously, Shadowland. The spelling was off, but the sentiment was genuine.
Photographer Christopher Victorio and I stood with our cameras at the side of the road, watching as two L.A. County Fire vehicles drove past the thank you note, each full of California inmates clad in orange.
Moments earlier, fire crew supervisor and 25-year LAFD vet Curt Hummel stopped to chat with us as his charges sat on the side of the road, taking a 15-minute break. The crew alternates between KFI and KFWB for news of the fire.
Hummel and his crew battled the Malibu flames on Sunday, and drove down to help at the OC fireline on Tuesday. They're in better shape than they have been in previous days, says Hummel, who managed to get a whopping seven hours of sleep last night.
If you like this story, consider signing up for our email newsletters.
SHOW ME HOW
X
Newsletters
"Crews are stretched so thin right now that there are twice as many fires as there are crews," he said. So Gov. Schwarzenegger authorized the California Department of Corrections and Rehabilitation to send their inmates out to help firefighters.
What do they get out of it? About $1/hr and two days off their sentences for every day served, Terry Thornton of the CDCR told the Weekly. More than 75 of these inmates are currently working on the Santiago Fire. (Update at 5 p.m. 226 are at the Santiago Fire.)
More details behind the cut:
- Inmates serve their time in one of 44 conservation camps run by CDCR and CAL FIRE. - No sex offenders, arsonists or anyone convicted of violent crimes are selected. - When not fighting fires, camps clear brush and do other assorted community service projects. - They typically have 2-year sentences. Most train while inmates at Sierra Conservation Center or the California Correction Center before serving an average of 8 months at one of the camps. - Camp inmates also are providing support by running mobile kitchens to feed all fire/police/other personnel fighting the fires.