Will Rick Warren Save the Jews?
Wednesday, November 14, 2007 at 2:50 p.m.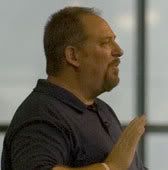 Sorry for the tardiness of this post--have been on the road...
The New York Times recently published a fascinating piece on how Saddleback Church mega-pastor Rick Warren is teaching Jews how to invigorate their congregations. The story reveals that Warren has lectured before Conservative congregations in Los Angeles and that an observant Jew, Mel Malkoff of the Orange-based Malkoff & Associates, handles most of the land acquisition and property development issues for the Lake Forest-based megachurch. Nevertheless, the seemingly likeable Warren still won't back down on his homophobic views. C'mon, Rick! You're thisclose to being a secular saint in our book!
Get the ICYMI: Today's Top Stories Newsletter Our daily newsletter delivers quick clicks to keep you in the know
Catch up on the day's news and stay informed with our daily digest of the most popular news, music, food and arts stories in Orange County, delivered to your inbox Monday through Friday.
Recommended for You
Powered by SailThru