White Supremacists Jury Reaches Some Verdicts
Monday, July 2, 2007 at 12:41 p.m.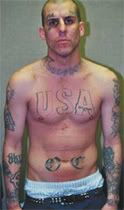 White supremacists Michael Lamb and Jason Rump must have sighed in relief this afternoon. Despite a week of deliberations following their nine-week trial, the panel hasn't been able to reach unanimous verdicts on the murder and attempted-murder counts.
But at lunchtime today, jurors announced they had found the Public Enemy Number One (PENI) Death Squard hoodlums guilty of street terrorism and possession of a firearm by a felon. Lamb was also convicted of conspiracy to commit a crime.
One juror asked to be dismissed for medical reasons. Later today, Superior Court Judge William Froeberg is expected to formally call an alternate juror into the deliberations.
If convicted of murder, Lamb faces the death penalty for the 2002 excution-style slaying of a fellow PENI gangster in Anaheim and for the subsequent attempted murder of a police officer.
Rump faces a maximum sentence of life in prison.
Photo: Michael Lamb
Related stories: See Moxley's White Meat, Please and White Power with a Lisp.
Get the ICYMI: Today's Top Stories Newsletter Our daily newsletter delivers quick clicks to keep you in the know
Catch up on the day's news and stay informed with our daily digest of the most popular news, music, food and arts stories in Orange County, delivered to your inbox Monday through Friday.
Recommended for You
Powered by SailThru