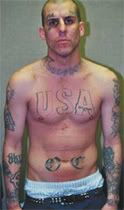 An Orange County jury of seven men and five women took nine days after a nine-week trial to convict two Public Enemy Number One Death Squad hoodlums for the 2002 murder of another gangster and the attempted murder of an undercover Anaheim cop.
Michael Allan Lamb, 32 (left), and Jacob Anthony Rump, 30, made no outbursts as Superior Court Judge William Froeberg's clerk read the guilty verdicts. Minutes later, when the lawyers huddled with Froeberg, they smiled at each other and twiddled their fingers on the table. Their family members and loved ones, who'd come to watch, sighed but remained still. Ten deputies guarded the courtroom.
Jurors will return tomorrow at 1:30 p.m. to begin the penalty phase for Lamb, who could face the death penalty. Froeberg ordered the lawyers back to court on Aug. 31 to discuss sentencing for Rump, a candidate for life in prison without the possibility of parole.
If you like this story, consider signing up for our email newsletters.
SHOW ME HOW
X
Newsletters
You can read our most recent story on this case, "White Power With a Lisp," here.