What's in the box?
Wednesday, April 23, 2008 at 3:40 p.m.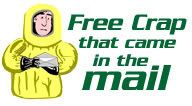 All you publicists out there have been lax in sending me meaningless free stuff to blog about, but this makes up for it. A package that's, what, five feet tall?
What could possibly be inside?
A "Ghost in the Shell" Motoko Kusanagi inflatable love doll?
A coat rack?
Samurai swords?
Iron Man?
After the jump, see what delight(s) lurked within the giant box...

IT'S A MOP!!!!!
Technically, the O-Cedar Pro Scrub sponge roller. But the word "mop" works fine.
And here I thought I was going to be without a gift for our receptionist on "Administrative Professionals Day." Now she has a nice present that will help her clean up after me. The gift that keeps on giving.
Get the ICYMI: Today's Top Stories Newsletter Our daily newsletter delivers quick clicks to keep you in the know
Catch up on the day's news and stay informed with our daily digest of the most popular news, music, food and arts stories in Orange County, delivered to your inbox Monday through Friday.
Recommended for You
Powered by SailThru