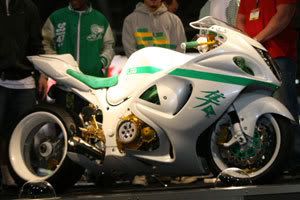 Straight out of Seattle, the Cycle World International Motorcycle Show opened its doors in Long Beach Friday and promptly shut Sunday. Weekly web photographer Christopher Victorio snuck in and drooled over the endless eye candy - such as this fully customized 2008 Suzuki Hayabusa sportbike. More pictures here.
The Boat Parade of Lights aka "A Merry Mardi Gras" sans the shirt lifting (though we hear there was some bead throwing) kicked off at Dana Point Friday and continued Saturday night. Missed it? So did we. Fortunately, it continues next weekend. Download the flyer here.
Landlocked, but determined not to be left out, Villa Park had its own landlubber's version of the parade down Taft Avenue, by Villa Park High School on Sunday. Check out The Register's flashy guide to boat parades here.
Staff writer LYT cast his vote for this year's best flicks along with the rest of the Los Angeles Film Critics Association. This year's winners are listed here.
If you like this story, consider signing up for our email newsletters.
SHOW ME HOW
X
Newsletters
Gem Faire -which was an excellent chance to pick up some cheap but creative X-mas presents- returned to the Costa Mesa fair grounds Friday and stayed on through the weekend. I liked it enough back in August to pick up a Raku necklace and enough snaps for a slideshow. The fair won't be back in town till February next year.
Hundreds of Catholics took over downtown Santa Ana Sunday (wait, this sounds like any other day in SanTana...) to celebrate their beloved Virgin of Guadalupe. Photos and stuff at the Reg.
The Punk Rock Cruise noted in Friday's calendar section looked intriguing, but at $320-$640 for the privilege, we said "Shine it!"
OCW intern extraordinaire Rachel Leeson was dying to get into KROQ's Almost Acoustic Christmas bash, but all those calls to the station weren't getting her diddly squat. We lurve our interns, so we e-mailed a few people and got her a photo pass for both Saturday and Sunday nights. Rachel should be reporting back with plenty of photos later today. She did mention that The Killers made a surprise guest appearance at yesterday's show. End-of-semester madness at UCI and a raging hangover from last night will probably mean sometime after lunch. . .