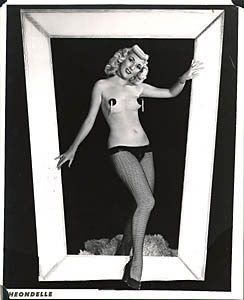 Saturday night was the opening of Voo Doo, a new club-show-concoction at the Basement Lounge in Long Beach. Advertised as a "burlesque show" to begin at 11 p.m., I brought my friend Angie who is a burlesque dancer herself, that way I could get an opinion from a professional's point of view.
So here comes midnight looming dangerously close, I'm two Lemon Drops in, and so far it looks like just another night at the underground lounge (which is actually pretty happening).
"Do you know what time the show starts?" I shouted at somebody over the music. They're not sure.
I know shows always run late, especially new ones, but it had been a very looong day (one which had involved sweltering heat, a fridge packed with beer and an inflatable boxing ring). I knew I wasn't going to last too much longer.
But then a couple security guards started shuffling people around, making a path from the stage to the bar.
The music changed to this sexy, thrashing song as two girls climbed on top of the bar. I was too far away to see the main stage up front, but I could tell there was something going on there too. I tried to squish my way to the front of the very tall crowd, but it just wasn't going to happen.
The girls on the bar could keep an audience though, and keep this sleepy girl's attention. They were exuberant, writhing around and doing these acrobatic flips from bars bolted to the ceiling. The dancers' energy was spastically high, and they managed to keep in perfect time with the hurried beats of songs I couldn't quite recognize. Angie, who is more of an old-school burlesque dancer was equally impressed, and mentioned how well choreographed the routine was.
It was dramatic and cool and incredibly sexy.
I was especially taken with the music. I asked Michael, the mastermind behind it all, about his song selection. He told me he wanted to keep it all very obscure, and stay concise with the night's Voo Doo theme (One song he tracked down was a Jimi Hendrix remix from a DJ in Europe).
The show that happened on top of the bar was excellent. Except for the fact that the bar itself was shut down for the duration of the show, which was a good half an hour. I didn't mind, I was lucky to get a fresh cocktail right before the show started. However, other clubgoers were not so easy going. A group of people started chanting "We want a drink!" and pounding their fists on the bar top.
Hey. If your shouting something like that and making a spectacle at an upscale club... maybe you don't need another one?
If you like this story, consider signing up for our email newsletters.
SHOW ME HOW
X
Newsletters
Conor (an OC Weekly intern) was also there, and said security wouldn't let anyone through the hall to use the restrooms during the show.
What!
OK, although I didn't experience that myself, there's no defending it. I almost can't believe it.
The first night of Voo Doo was a spectacular performance (from what I could see anyway), but hopefully the Basement can find a way to keep the rest of the club functioning during the show. They have plenty of time to work out the kinks, Voo Doo is scheduled to be a weekly occurrence every Saturday night.