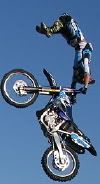 If you like the X Games but wish there was just a little more Christ in the house, the innocuously named Orange County Festival this Saturday in San Juan Capistrano might be right up your alley. In eight years of Catholic school, I never got to the part of the bible where Jesus hits the half pipe, but Christian skaters and surfers are neither new nor confined to the U.S.
If you like this story, consider signing up for our email newsletters.
SHOW ME HOW
X
Newsletters
Just interested in seeing the motocross, skateboarding, and BMX tricks? You can probably avoid the scheduled speakers but not the Christian bands playing throughout the day. And if you're wondering, the athletes involved aren't just fringe players. Kyle Loza took the gold for Best Moto X Trick over the summer and infamous shark-attacked surfer Bethany Hamilton will introduce the premiere of the surfing film Walking on Water. I wonder if there's any overt Christian message in it?