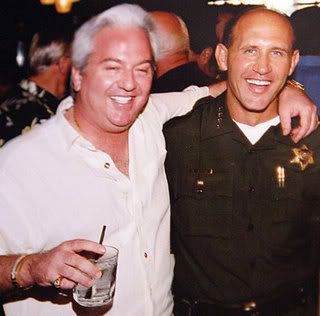 OC's Embarrassing Buford T. Justice: Law-enforcement helicopters and ground crews normally — blatantly — tail me. You should have seen them after I revealed that local cops had planted a handgun on a DUI suspect, after I wrote about a cop who ejaculated on a female motorist in Laguna Beach, and when I published photos of Sheriff Mike Carona warmly embracing a female Russian, uh, "interpreter" in his Moscow hotel room. Anyway, the cop harassment has increased recently, and I'd wondered why. My answer came this morning from Christine Hanley, who wins best story of the day.
The veteran LA Times investigative reporter wrote, "A law-enforcement network that gathers intelligence on organized crime has cut off the Orange County Sheriff's Department because of the sheriff's association with various businessmen, including a Las Vegas strip-club owner with reputed mob ties now serving time for racketeering."
(See my revelations about Carona's slimy connection to Las Vegas titty-bar owner and convicted racketeer Rick Rizzolo here and to convicted swindler Joseph Medawar here. Or a sweet, but by no means exhaustive, compliation of misdeeds here.)
Hanley obtained a document from the Law Enforcement Intelligence Unit (LEIU) that confirms the group indefinitely suspended Carona's and the OCSD's access to "criminal intelligence information." Though LEIU is a 51-year-old, highly acclaimed professional organization connected to 250 police departments in four countries, OC Assistant Sheriff Steve Bishop, one of Carona's promoted Yes Men, told Hanley so what? But Los Angeles County
Sheriff's Captain Steve Johnson, who helps supervise his department's major crime bureau, told the Times that the Intelligence Unit's resources are "highly valuable."
In Hanley's story, Carona — who has mastered pouting, chick pickups and disingenuous smiling — said he's misunderstood. Could be. Perhaps our sheriff is getting close to shady characters in a counterintuitive, counterintelligence operation. Through big smiles and hugs, Carona lets the pinky-ringed hoodlums think he's their pal by showering them with fake affection and then — wham, stage two — he arrests them--exactly like Lieutenant Columbo does it on TV. He's only in stage one now, see?
H.B. police get more nudity powers! The Huntington Beach City Council voted unanimously to ban public nudity Monday night after complaints by Police Chief Ken Small. According to the Reg, Small was upset that a city law allowed his officers to make nudity arrests only if the suspect also displayed "behavior indicating sexual gratification." Can you imagine the thankless hours his officers have had to spy on the nudists in hopes of seeing them gyrate in a sexual way? The new law, which is supposed to go into effect in September, bans nudity in any spot visible from a public area. Councilman Joe Carchio, a stooge for convicted crook and ex-H.B. mayor Dave Garofalo, says the government crackdown is necessary to protect "our kids." But the paper quotes Allen Baylis with the Naturist Action Committee saying that "such laws only serve to erode liberty and the pursuit of happiness."
County Supes burn more dinero today: Sheriff Mike Carona (R-Liarsville) wants $188,000 to replace the countertops in the jail's guard station. He desires new stainless steel ones. And he'll get it because the all-Republican Board of Supervisors has placed the item on the consent calendar for today's public board meeting. I'm not privy to the sheriff's logic on most occasions, but stainless-steel counters should make it easier to hose off a handcuffed inmate's blood after a beating.
Also, the supes plan to toss away another $175,000 to Keyser Marston and Associates Inc., which has already been handed $600,000 in taxpayer dollars to "gathering economic data applicable" to the Dana Point Harbor and to provide "analysis of data" and create "financial models for the revitalization of Dana Point." The item is on the consent calendar as well. If approved, that means we're paying $775,000 for consulting to learn if our government is cost effective in a single operation. P.S.: This job wasn't put out for public bidding. Nice.
If you like this story, consider signing up for our email newsletters.
SHOW ME HOW
X
Newsletters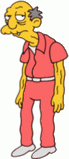 Did an elderly Laguna Beach man go nuts? Imagine you are standing at a bus stop in Laguna Beach when a 75-year-old Iranian man pulls his car over, gets out, pokes you in the ribs with a sharp object, and demands that you go with him or die. Police say this is exactly what happened to a 29-year-old Laguna Niguel woman two weeks ago. According to the Coastline Pilot, the woman broke free and ran to a nearby grocery store to call the cops. The suspect, Abbas Ghane, was chased down, arrested and is out of jail on $50,000 bail. (The paper incorrectly reported bail as $75,000.) Ghane faces two felonies: making criminal threats and false imprisonment by use of violence. He's pleaded not guilty and will face a judge for a pretrial hearing on Aug. 8.
7,000 more sex offenders on California streets? That's what will happen if the state's plan to spend $7.9 billion on new prison beds is nixed or delayed, according to state Assemblyman Todd Spitzer. In an opinion piece today for the Register, Spitzer says he's alarmed that federal judges might impose inmate population caps while the state is working on a bipartisan plan (Assembly Bill 900) to increase the number of prison beds by 53,000. He writes, "Some estimates calculate that 35,000 to 60,000 prisoners could be released into our communities as a result of such a cap." That number includes 7,000 sex offenders, according to the former county supervisor, reserve cop and prosecutor. Spitzer said federal judges would be "irresponsible" to interfer now.
41st Governor's Cup Regatta: From 2 to 5 p.m. today, 12 teams of junior sailboat racers from Newport Beach, San Francisco, Long Beach, New Orleans, Annapolis, the Virgin Islands and Australia will compete in the ocean off the Newport Pier. For more information, contact Nancy Mellon at (714) 998-0917.
And finally, today's little-known fact (in honor of Sheriff Mike Carona): Al Capone's business card said he was a used furniture dealer.