Trailing Me
Thursday, August 9, 2007 at 12:23 p.m.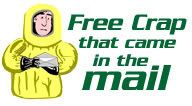 I like the idea of bribing me with food in order to get me to pay attention to a cause. PETA, for one, would do better to give away free vegetarian food that tastes good rather than getting celebrities to act like idiots -- sorry, but I'm not gonna spare the poor animals' lives if it means eating disgusting crap for the rest of mine.
And speaking of disgusting -- granola bars with dried fruit just ain't my thing. Which I know is weird coming from someone who eats duck fetus and snails, but y'know, those are moist.
So yeah, save the hiking trails. I like hiking trails. Just not raisin granola.
(See said free crap behind the cut.)
Get the ICYMI: Today's Top Stories Newsletter Our daily newsletter delivers quick clicks to keep you in the know
Catch up on the day's news and stay informed with our daily digest of the most popular news, music, food and arts stories in Orange County, delivered to your inbox Monday through Friday.
Recommended for You
Powered by SailThru