This Week in the OC Weekly
Friday, August 22, 2008 at 12:52 p.m.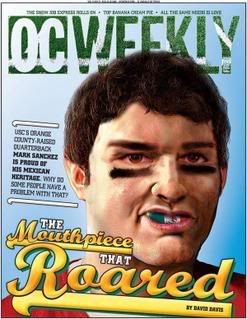 In "The Mouthpiece That Roared" David Davis interviews OC-raised USC Quarterback Mark Sanchez and the stink he's causing because of his proud Mexican heritage.
In "The Snow Job Express Rolls On" Gustavo Arellano looks at the controversial philanthropist Michael Scott Kerr's new career as a wrapper.
In "Back in the Saddle" Eleanor Carmichael recalls her experience at the Saddleback Church candidate forum.
Plus...
• The Weekly's standing columns, ¡Ask a Mexican!, Hey You! and Savage Love
• Restaurant reviews of Jongewaard's Bake 'n' Broil in Long Beach and Big B's BBQ in Fullerton.
• Culture focuses on Sherry Karver and David Lyle's photography at Sue Greenwood Fine Art Gallery, The Maverick Theater's Production of 'Picasso at the Lapin Agile,' Trendzilla talks Goyard tote bags and Game On dissects 'Order Up!'
• Film reviews of Hamlet 2, The Rocker and local special screenings
• Music features a review of the Germs/Darby Crash biopic 'What We Do Is Secret', Matthew Sweet, rapper The Game, Rex Reason looks at Aurora Napua Ka'awa in Aural Reports; Locals Only listens to Joshua Lanes and read new CD reviews of The Dandy Warhols, 'Earth to the Dandy Warhols' (Beat the World) and The Verve, 'Forth' (On Your Own)
And more daily at OCweekly.com
Get the ICYMI: Today's Top Stories Newsletter Our daily newsletter delivers quick clicks to keep you in the know
Catch up on the day's news and stay informed with our daily digest of the most popular news, music, food and arts stories in Orange County, delivered to your inbox Monday through Friday.
Recommended for You
Powered by SailThru