This Week in the OC Weekly
Friday, September 12, 2008 at 12:23 p.m.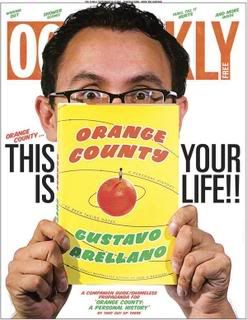 In "Orange County: This is Your Life" Gustavo Arellano provides a companion guide/shameless propaganda for his new book Orange County: A Personal History
"Huell Bleepin' Howser!" has Gustavo Arellano interviewing California's favorite citizen about Orange County, Trestles and the evil TCA.
And "Moxley Confidential: Tape? What Tape?" has R. Scott Moxley explaining why you'll be shocked—shocked!—to hear that a civilian videotape of a rough arrest by sheriff's deputies has gone missing.
Plus...
• The Weekly's standing columns, ¡Ask a Mexican!, Hey You! and Savage Love
• Restaurant reviews of Sea Smoke in San Clemente and Pho Dakao in Garden Grove.
• Culture focuses on 'Swimmin' With Women' at Anaheim's Sarah Bain Gallery and Alive Theatre's '28 Plays Later.' While Trendzilla talks affordable faux-leather jackets and Game On dissects the troubled journey of 'Too Human'
• Film reviews of 'Burn After Reading,' 'The Women' and local special screenings
• Music features articles on Vampire Weekend and The Whigs. Rex Reason looks at KUCI DJ Arthur Galestian in Aural Reports, Locals Only listens to Chris Williams, and we've got CD reviews of Juliana Hatfield, 'How to Walk Away' (Ye Olde Records) and Alexander Tucker, 'Portal' (ATP)
And more daily at OCweekly.com
Get the ICYMI: Today's Top Stories Newsletter Our daily newsletter delivers quick clicks to keep you in the know
Catch up on the day's news and stay informed with our daily digest of the most popular news, music, food and arts stories in Orange County, delivered to your inbox Monday through Friday.
Recommended for You
Powered by SailThru