Thirteen OC Bridges Deemed Structurally Deficient
Monday, August 13, 2007 at 4:18 p.m.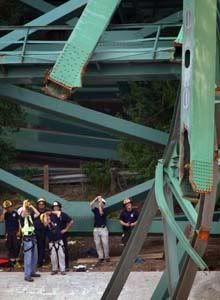 According to the California State Bridge Inventory released by Caltrans last week, 13 bridges in Orange County have been classified as "structurally deficient." But, according to Caltrans, this doesn't mean that bridges are going to start collapsing all over the place.
On the inventory, Caltrans specifies (repeatedly) that "structurally deficient" means that bridges need repairs to prevent minor problems from becoming more serious and doesn't mean the bridge is in danger of collapsing.
Some of the bridges listed include those of Tustin Avenue, Trabuco Creek and Weir Canyon Road.
The deficient bridges scored a 4 or less, out of a possible 9, by federal bridge inspection standards based on individual scores for deck condition, superstructure condition, substructure condition or culvert condition.
Of the 13 bridges deemed structurally deficient, only one, the San Juan Canyon bridge, was put on the priority repair list. Meaning that it will be fixed before the others.
The release of this inventory comes after of the devastating collapse of Interstate 35W bridge in Minneapolis, killing 8 people. Interstate 35W was deemed as structurally deficient by maintenance staff last year.
To view Caltrans' list of structurally deficient bridges click here.
Today's edition of the Los Angeles Times looks into L.A.'s problem bridges too.
Get the ICYMI: Today's Top Stories Newsletter Our daily newsletter delivers quick clicks to keep you in the know
Catch up on the day's news and stay informed with our daily digest of the most popular news, music, food and arts stories in Orange County, delivered to your inbox Monday through Friday.
Recommended for You
Powered by SailThru