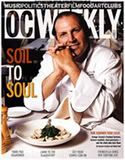 The Los Angeles Times must have liked the past few months' OC Weekly covers quite a bit. Enough to hire our superstar art director away, anyhow.
Sobs and congratulations go out to our boy Joey Santos. Our loss is definitely your gain, LAT.
Not only is Joey stupid with talent, but he's a peach of a guy, too.
If you like this story, consider signing up for our email newsletters.
SHOW ME HOW
X
Newsletters
(Confession: I'm selfishly grateful he'll be designing my first OCW feature story before he heads out.)