They saw, they liked, they conquered
Thursday, July 19, 2007 at 5:15 p.m.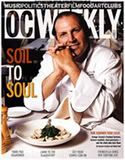 The Los Angeles Times must have liked the past few months' OC Weekly covers quite a bit. Enough to hire our superstar art director away, anyhow.
Sobs and congratulations go out to our boy Joey Santos. Our loss is definitely your gain, LAT.
Not only is Joey stupid with talent, but he's a peach of a guy, too.
(Confession: I'm selfishly grateful he'll be designing my first OCW feature story before he heads out.)
Get the ICYMI: Today's Top Stories Newsletter Our daily newsletter delivers quick clicks to keep you in the know
Catch up on the day's news and stay informed with our daily digest of the most popular news, music, food and arts stories in Orange County, delivered to your inbox Monday through Friday.
Recommended for You
Powered by SailThru