The Vichy That Won't Surrender
Thursday, August 2, 2007 at 3:14 p.m.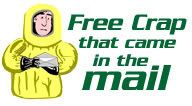 I don't know why I'm being singled out by Vichy as someone to whom massive amounts of skin-care products should be sent, but the packages just keep coming. This time, something called "Chrono-Action-Anti-Imperfection Care" (always wanted to cure myself of being imperfect!), as well as something called "NormaDerm medicated acne system."
Acne hasn't been an issue for me since I got out of high school and stopped shooting steroids. But maybe we have an intern young enough to use it somewhere.
(P.S. The steroid thing is a joke. If you've seen my lack of ab definition, you know this.)
Hit 'Read On' to see said free crap.
Get the ICYMI: Today's Top Stories Newsletter Our daily newsletter delivers quick clicks to keep you in the know
Catch up on the day's news and stay informed with our daily digest of the most popular news, music, food and arts stories in Orange County, delivered to your inbox Monday through Friday.
Recommended for You
Powered by SailThru