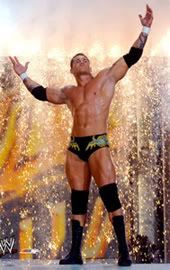 It's 8 p.m. Saturday and I'm sitting at the very last row of Anaheim's Honda Center next to pop culture guru and Weekly staffer Luke "LYT" Thompson. With our backs against the stadium wall, we've got quite a view of the glowstick-clutching crowd that's turned out to welcome the wrestling demigods of WWE's RAW. Far below, the ring looks like the miniature version one might pick up at Toys 'R' Us - something I'm guessing more than half the attendees have at home, since the place is crawling with kids under 12.
Luke and I are watching sweaty, muscular men in little shorts throwing each other around and all I can think of is Roland Barthes, the French philosopher who used wrestling to discuss semiotics - the study of signs and symbols; how meaning is constructed and understood.
RAW leans heavily on the visual symbols society has incorporated into its language of imagery. The "bad guys" are oftentimes obese and unpleasing to the fan's eye, (case in point: Umaga, the tattooed, wide-assed "Samoan Bulldozer") while the heroes are dripping with positive energy (i.e. all-American Jeff Hardy in his rainbow dreds). Incidentally, both these guys will be fighting tonight. See their photos here.
What was interesting for Luke and me was how RAW played the race card in almost every match, and the crowd's response.
Take match one, for instance: French-Canadian Sylvan Grenier vs. Mexican jumping bean Super Crazy. The names alone lean heavily on stereotype. Sylvan slides into the ring with a skanky blonde, and both start speaking French into their microphones. "BOOO!" yells the crowd. Then the contender skips into the spotlight, draped in the flag of Mexico, and the predominantly Latino crowd goes wild, chanting "Crazy! Crazy! Crazy!"
The favorite wins the match, but that isn't always the case. Though the crowd was screaming Hardy's name, he still got his ass handed to him by Umaga.
More race play: - Puerto Rican Carlito and British pretty boy William Regal vs. team America: the Sandman and Hacksaw Jim Duggan. (America wins.) - African American powerhouse Bobby Lashley vs. some smaller whitey whose name I can't remember** because I was distracted by Lashley's bulging musculature. (Lashley, who will take on champion John Cena tonight, wins.) - Latina bombshell Melina vs. former Playboy cover girl Candice Michelle (white America wins).
If you like this story, consider signing up for our email newsletters.
SHOW ME HOW
X
Newsletters
The only full white-on-white meat match was the main event, Randy Orton vs. John Cena. This was further broken down by stereotype, with pretty, arrogant "wrestling is my destiny" Orton in his shiny man panties and Cena as the kid from da hood in his long jean shorts. The match was long...and frankly, a little lackluster. In the end, Cena took his championship belt home with him, though he said he may lose it tonight to Bobby Lashley.
Luke and I waited for the crowd to thin before we descended the vertigo-inducing stair. But we ran into the lot in the lobby, where we masochistically stood in line to pick up some shirts.
His choice: Umaga. Mine: Orton. I apparently dig shiny 'manties.' And win or lose, he's got a way cooler logo than Cena.
**Mr. Kennedy is his name, LYT informs me.