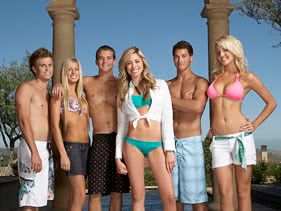 Newport Harbor is truly mindless television. You literally have to turn your brain off and sit in a catatonic state, drool dripping from your chin, just to stomach the incessant chatter and meaningless conversations that encompass the show.
That being said, I have to note that episode four was hands down the worst fucking piece of shit I have ever seen. I had to watch it twice just to remember what happened because I was so far into my induced stupor that I forgot what the hell was going on. It was a waste of an hour of my life that I will never get back, ever again.
Here is what happened during this complete waste of consciousness. Chrissy and Chase made out last week so Allie decided that since Chrissy clearly doesn't like Clay that she will ask him on a date. They go mini golfing. It is very exciting. Lots of "Oh nos" and "Shut ups" compiling the majority their conversation.
Later, Chrissy hears about the date and decides to have a BBQ at her house and invite Clay so that she can confess her love before that bitchy-bitch Allie gets her paws on him. Meanwhile, Chrissy is all nervous that Clay won't show because last week he dissed her at Grant's poker party for kissing Chase. But surprise surprise he shows up. Hooray!
So, the party gets started and more brilliance spills from their lips as they cook the meat. "I'll be sure to cook yours extra undercooked!" Grant shouts. My brain hurts.
Chrissy and Clay finally get a chance to be alone together in the kitchen. Here they discuss the fact that they have both gone out with other people. Here is a snip of that conversation.
"So, uh, what's up?" Clay asks. "Nothing." Chrissy answers. "So, uh, are you parents home tonight?" "They are in a golf tournament so they're gone." "Cool. Ummm. Well."
After about five more minutes of this kind of gripping conversation, with no eye contact between them at all by the way, they finally agree to go out on a date.
Insert getting ready for the big date montage here. Do dah dodie dah dah.
OK. So, they're finally at the restaurant. Here's the conversation.
If you like this story, consider signing up for our email newsletters.
SHOW ME HOW
X
Newsletters
"I'm excited," Chrissy says. "Yeah. The fish here, they catch from right here (points at ocean)," Clay replies. "Seriously?" "No." "I was going to say, 'ewww.'" "I'm so hungry right now."
Idiocy ensues.
Later it comes out that neither Clay nor Chrissy have had a serious relationship yet in their over-privileged lives. Apparently, all of Clay's previous girlfriends have been "like, stupid" making them hard to talk to. What do you call this conversation Clay? Because it seems pretty fucking stupid to me.
After dinner they kiss goodnight and that is the end of the show. THANK GOD.