The Pothead and the Prius
Saturday, July 7, 2007 at 9:40 a.m.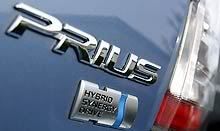 Days ago, Al Gore's son was in the news for allegedly having pot and other substances inside his Toyota Prius - which he was caught doing 105 mph in on the 5 freeway in Orange County.
Gore's gone from the spotlight, but the Prius remains a talk radio and blogosphere favorite - hell, who knew a wimpy hybrid car could roll that way? Here's Pulitzer Prize-winning car critic Dan Neil's take on the sitch.
Get the ICYMI: Today's Top Stories Newsletter Our daily newsletter delivers quick clicks to keep you in the know
Catch up on the day's news and stay informed with our daily digest of the most popular news, music, food and arts stories in Orange County, delivered to your inbox Monday through Friday.
Recommended for You
Powered by SailThru