The Pothead and the Prius
Saturday, July 7, 2007 at 9:40 a.m.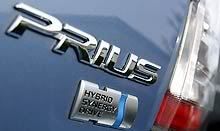 Days ago, Al Gore's son was in the news for allegedly having pot and other substances inside his Toyota Prius - which he was caught doing 105 mph in on the 5 freeway in Orange County.
Gore's gone from the spotlight, but the Prius remains a talk radio and blogosphere favorite - hell, who knew a wimpy hybrid car could roll that way? Here's Pulitzer Prize-winning car critic Dan Neil's take on the sitch.
Get the This Week's Top Stories Newsletter
Every week we collect the latest news, music and arts stories — along with film and food reviews and the best things to do this week — so that you'll never miss OC Weekly's biggest stories. Every week we collect the latest news, music and arts
In Case You Missed It