The Pic That Won't Quit
Monday, August 6, 2007 at 3:16 p.m.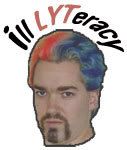 Last week, we noticed that a photo of me watching a 3-D presentation made it into USA Today.
Earlier this morning, I was told the photo was also on AOL. And then today, I see it on Time Magazine's website (thanks KT for the tip-off!)
Be nice if they actually identified me in the pic. But anonymous fame is better than none.
Get the This Week's Top Stories Newsletter
Every week we collect the latest news, music and arts stories — along with film and food reviews and the best things to do this week — so that you'll never miss OC Weekly's biggest stories. Every week we collect the latest news, music and arts
In Case You Missed It