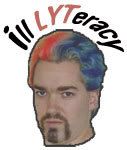 Last week, we noticed that a photo of me watching a 3-D presentation made it into USA Today.
Earlier this morning, I was told the photo was also on AOL. And then today, I see it on Time Magazine's website (thanks KT for the tip-off!)
If you like this story, consider signing up for our email newsletters.
SHOW ME HOW
X
Newsletters
Be nice if they actually identified me in the pic. But anonymous fame is better than none.