The Pic That Won't Quit
Monday, August 6, 2007 at 3:16 p.m.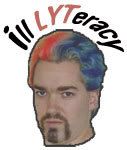 Last week, we noticed that a photo of me watching a 3-D presentation made it into USA Today.
Earlier this morning, I was told the photo was also on AOL. And then today, I see it on Time Magazine's website (thanks KT for the tip-off!)
Be nice if they actually identified me in the pic. But anonymous fame is better than none.
Get the ICYMI: Today's Top Stories Newsletter Our daily newsletter delivers quick clicks to keep you in the know
Catch up on the day's news and stay informed with our daily digest of the most popular news, music, food and arts stories in Orange County, delivered to your inbox Monday through Friday.
Recommended for You
Powered by SailThru