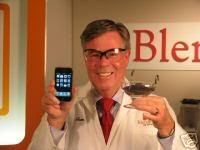 The iPhone is apparently worth more as a black pile of ash than as its snazzy intact self.
We know this because the mad scientists at the Will It Blend site threw the pretty tech toy in a blender, and then after finding out it DID blend quite nicely, put it up on eBay.
The bid is currently at $1,151. You can buy two brand-new phones of the 4GB variety with that.
If you like this story, consider signing up for our email newsletters.
SHOW ME HOW
X
Newsletters
Sheesh. Crazy Americans.