The Best of the Worst
Friday, January 25, 2008 at 1:09 p.m.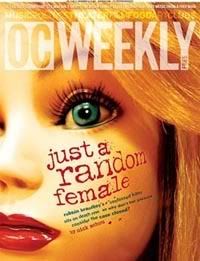 Nick Schou's "Just a Random Female," which recounted the harrowing tale of the 1986 murder of Robbin Brandley at Saddleback College and the subsequent search for her killer, will be included in the 2008 edition of The Best American Crime Reporting anthology. This book has in the past featured articles from such publications as Esquire, The Atlantic Monthly, GQ and New York magazine.
If you haven't read Nick's story yet, you should. But do yourself a favor: Make sure you're somewhere well-lit, and with lots of people around. In addition to being a heartbreaking tale of a family's loss and a page-turning police procedural, this story is absolutely terrifying.

Get the ICYMI: Today's Top Stories Newsletter Our daily newsletter delivers quick clicks to keep you in the know
Catch up on the day's news and stay informed with our daily digest of the most popular news, music, food and arts stories in Orange County, delivered to your inbox Monday through Friday.
Recommended for You
Powered by SailThru