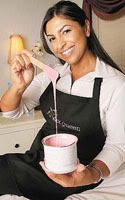 Gifts from the OC classifieds:
Free Brazilian wax, anyone? There's always a catch for this sort of $50 freebie. Answer this ad, and you'll get it done live at an education conference before a waxing class.
Put out: For free rent at one guy's Santa Ana home.
If you like this story, consider signing up for our email newsletters.
SHOW ME HOW
X
Newsletters
Lost a surfboard? If you dropped it on the 405, this dude may be your man.
Paint your parts: "Young, handsome artist seeks female model for masterpiece! Actually it's all experimental. i want to draw or paint female body parts but i also want to paint pictures on those parts . . . "
What a deal: $250 for one stud, $400 for two.
Urp: "Where can I find a good old fashioned Mexican sperm burper in Orange County? I don't even care about their legal status. Just has to be able to burp sperm on command."