That's Classified
Thursday, June 21, 2007 at 1:35 p.m.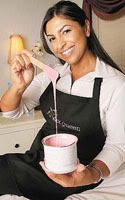 Gifts from the OC classifieds:
Free Brazilian wax, anyone? There's always a catch for this sort of $50 freebie. Answer this ad, and you'll get it done live at an education conference before a waxing class.
Put out: For free rent at one guy's Santa Ana home.
Lost a surfboard? If you dropped it on the 405, this dude may be your man.
Paint your parts: "Young, handsome artist seeks female model for masterpiece! Actually it's all experimental. i want to draw or paint female body parts but i also want to paint pictures on those parts . . . "
What a deal: $250 for one stud, $400 for two.
Urp: "Where can I find a good old fashioned Mexican sperm burper in Orange County? I don't even care about their legal status. Just has to be able to burp sperm on command."
Get the ICYMI: Today's Top Stories Newsletter Our daily newsletter delivers quick clicks to keep you in the know
Catch up on the day's news and stay informed with our daily digest of the most popular news, music, food and arts stories in Orange County, delivered to your inbox Monday through Friday.
Recommended for You
Powered by SailThru