That's Classified
Thursday, August 9, 2007 at 2:59 p.m.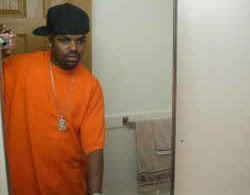 It's been a long time since we surfed the online classifieds for your entertainment. We shan't deprive you any longer.
Love in all the wrong places:
"Let me spoil u/ Young black and sexy." See photo. Scratch head. As for the spoiling, check out his ride.
"Ecstasy with a senior citizen." Errr...will send this one to mum.
Let's hate humanity together: "I hate people. I am a 28 year old single people-hater..."
HOT LATINO LOOKING NICE GIRL: "you can faund me on movarak@yahoo.com."
"Ugly face sitter wanted." Well, since you asked so nicely...
"Big Breasts are my DESTINY!!! true believer, that one.
Local Freebies: Bamboo. Fish. Hair dressing for men. Bus seats.
Get the ICYMI: Today's Top Stories Newsletter Our daily newsletter delivers quick clicks to keep you in the know
Catch up on the day's news and stay informed with our daily digest of the most popular news, music, food and arts stories in Orange County, delivered to your inbox Monday through Friday.
Recommended for You
Powered by SailThru