Strangest Sight of the Night...
Tuesday, February 5, 2008 at 6:48 p.m.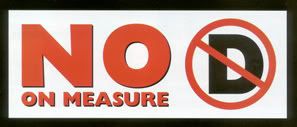 The "No on Measure D" sign on a fenced-off area of the City Place lofts in North SanTana. City Place's developer? Robert Bisno, who gave $40,000 to the Yes on Measure D efforts.
Not only does God have a sense of humor, he protects it via the California Fair Political Practices Commission.

Get the ICYMI: Today's Top Stories Newsletter Our daily newsletter delivers quick clicks to keep you in the know
Catch up on the day's news and stay informed with our daily digest of the most popular news, music, food and arts stories in Orange County, delivered to your inbox Monday through Friday.
Recommended for You
Powered by SailThru