Stay 'Tooned!
Friday, August 24, 2007 at 1:11 p.m.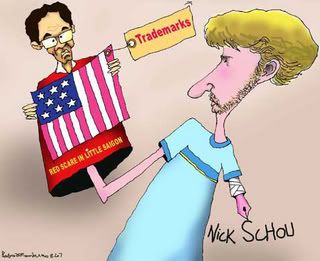 Nick Schou's Aug. 17 cover story "Red Scare in Little Saigon" has struck a nerve in the Vietnamese-American community, so much so that he's been immortalized in a none-too-flattering cartoon. It's currently up on the Vietnamese-language website www.take2tango.com.
It's unclear just yet in what way Nick is supposed to be controlling Viet Weekly publisher Le Vu—our translation of the accompanying Vietnamese text is still pending—and I must say, that really doesn't look like Nick at all.
Except for the fountain pen for a hand. Totally accurate. I've been meaning to get one of those for myself.
Get the ICYMI: Today's Top Stories Newsletter Our daily newsletter delivers quick clicks to keep you in the know
Catch up on the day's news and stay informed with our daily digest of the most popular news, music, food and arts stories in Orange County, delivered to your inbox Monday through Friday.
Recommended for You
Powered by SailThru