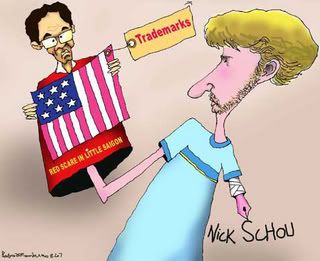 Nick Schou's Aug. 17 cover story "Red Scare in Little Saigon" has struck a nerve in the Vietnamese-American community, so much so that he's been immortalized in a none-too-flattering cartoon. It's currently up on the Vietnamese-language website www.take2tango.com.
It's unclear just yet in what way Nick is supposed to be controlling Viet Weekly publisher Le Vu—our translation of the accompanying Vietnamese text is still pending—and I must say, that really doesn't look like Nick at all.
If you like this story, consider signing up for our email newsletters.
SHOW ME HOW
X
Newsletters
Except for the fountain pen for a hand. Totally accurate. I've been meaning to get one of those for myself.