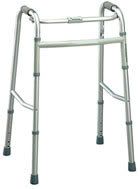 An 84 year-old man in Laguna Woods was using a walker and fell over; then, while he was being treated by a firefighter, he was hit by a car, the LA Times reports.
The man suffered broken bones, asphalt abrasions, and burns. He was listed as being in critical condition Sunday night.
The firefighter, in a move that would make TJ Hooker proud, "instinctively jumped up in the air and landed onto the hood." He's fine.
See what happens when you know your Shatner?
If you like this story, consider signing up for our email newsletters.
SHOW ME HOW
X
Newsletters