So you think your day was bad?
Monday, December 17, 2007 at 3:30 p.m.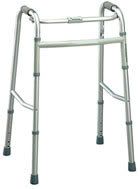 An 84 year-old man in Laguna Woods was using a walker and fell over; then, while he was being treated by a firefighter, he was hit by a car, the LA Times reports.
The man suffered broken bones, asphalt abrasions, and burns. He was listed as being in critical condition Sunday night.
The firefighter, in a move that would make TJ Hooker proud, "instinctively jumped up in the air and landed onto the hood." He's fine.
See what happens when you know your Shatner?
(h/t LA Observed)

Get the ICYMI: Today's Top Stories Newsletter Our daily newsletter delivers quick clicks to keep you in the know
Catch up on the day's news and stay informed with our daily digest of the most popular news, music, food and arts stories in Orange County, delivered to your inbox Monday through Friday.
Recommended for You
Powered by SailThru