Snap Judgment: Rinkside Rippin'
Sunday, September 16, 2007 at 5:42 a.m.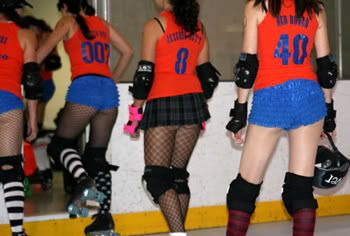 "Blondie Clocks!!! Come ON Blondie! Kill! Kill!" yells the huge gent on the folding seat behind me at the Anaheim Hockey Club.
Then, "Kill! Kill! Take your top off!"
Blondie, the OC Roller Girls' lead jammer, grins and waves at her white trash fanbase before taking off and knocking a chick twice her size aside. At the end of the night, OC would fall to Sac City, but it was still good fun. Click the photo for more shots from last night's bout.

Get the ICYMI: Today's Top Stories Newsletter Our daily newsletter delivers quick clicks to keep you in the know
Catch up on the day's news and stay informed with our daily digest of the most popular news, music, food and arts stories in Orange County, delivered to your inbox Monday through Friday.
Recommended for You
Powered by SailThru