Snap Judgment: Rinkside Rippin'
Sunday, September 16, 2007 at 5:42 a.m.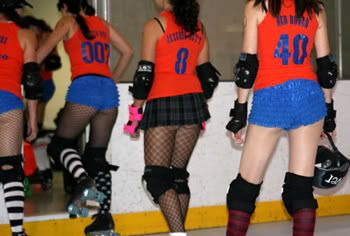 "Blondie Clocks!!! Come ON Blondie! Kill! Kill!" yells the huge gent on the folding seat behind me at the Anaheim Hockey Club.
Then, "Kill! Kill! Take your top off!"
Blondie, the OC Roller Girls' lead jammer, grins and waves at her white trash fanbase before taking off and knocking a chick twice her size aside. At the end of the night, OC would fall to Sac City, but it was still good fun. Click the photo for more shots from last night's bout.

Get the This Week's Top Stories Newsletter
Every week we collect the latest news, music and arts stories — along with film and food reviews and the best things to do this week — so that you'll never miss OC Weekly's biggest stories. Every week we collect the latest news, music and arts
In Case You Missed It