Snap Judgment: Asleep in Orange County
Tuesday, August 21, 2007 at 8:36 p.m.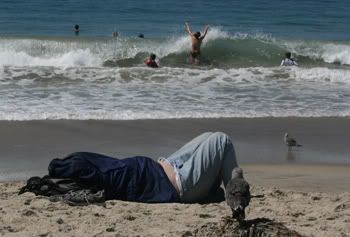 I once did a photo series called "Asleep in Los Angeles," featuring locals asleep all over the place: on the Metro, by the public library, on cardboard, grass, abandoned couches...gosh darn, those Angelenos sure like to sleep.
Anyway, here's what could be the first installment of the Orange County edition. I stumbled upon this dude resting by the crashing waves of Main Beach in Laguna. He's going to have a weird belly tan when he wakes up...maybe some sand down his crack. Let's not ponder this further.

Get the ICYMI: Today's Top Stories Newsletter Our daily newsletter delivers quick clicks to keep you in the know
Catch up on the day's news and stay informed with our daily digest of the most popular news, music, food and arts stories in Orange County, delivered to your inbox Monday through Friday.
Recommended for You
Powered by SailThru