Snap Judgment: A Stone Cold career. Or not.
Wednesday, September 19, 2007 at 11:43 a.m.
One would think sitting at an Anaheim Wal-Mart and signing copies of The Condemned would be a career low for former WWE champ Stone Cold Steve Austin. But the line winding through the store aisles and the chaos that was the Wal-Mart parking lot yesterday evening indicate otherwise. A friend and I had stepped in to check out the Halloween decor - completely spacing LYT's post about the event - and were scratching our heads at the some-thousand people there. Then we saw the man and everything made sense.
More pix behind the cut.

A word of warning:
Bring your own belt: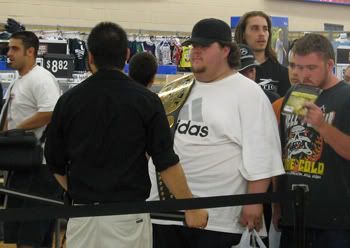 The winding line:
Get the ICYMI: Today's Top Stories Newsletter Our daily newsletter delivers quick clicks to keep you in the know
Catch up on the day's news and stay informed with our daily digest of the most popular news, music, food and arts stories in Orange County, delivered to your inbox Monday through Friday.
Recommended for You
Powered by SailThru