One would think sitting at an Anaheim Wal-Mart and signing copies of The Condemned would be a career low for former WWE champ Stone Cold Steve Austin. But the line winding through the store aisles and the chaos that was the Wal-Mart parking lot yesterday evening indicate otherwise. A friend and I had stepped in to check out the Halloween decor - completely spacing LYT's post about the event - and were scratching our heads at the some-thousand people there. Then we saw the man and everything made sense.
If you like this story, consider signing up for our email newsletters.
SHOW ME HOW
X
Newsletters
More pix behind the cut.

A word of warning:
Bring your own belt: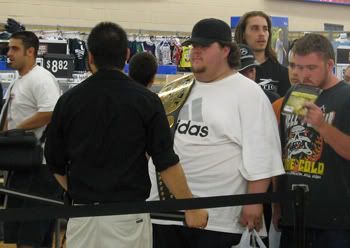 The winding line: