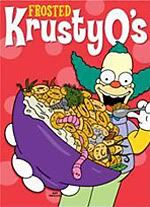 On Monday, we noted that Simpsons movie mania had reached a new high for PR campaigns in general — with 11 U.S. 7-Eleven stores being turned into Kwik-E-Marts for the occasion.
Los Angeles got two of these, stocked with Krusty O's and Buzz Cola. Alas, we're once again left out down here in OC. Well, not completely. The regular ol' 7-Elevens are carrying "WooHoo! Blue Vanilla" Squishees and Homer's pink-sprinkled donut.
I considered checking out the Kwik-E-Mart on Sepulveda and Venice during my Fourth of July LA romp, but the place was a madhouse. At around 10 p.m., a line was winding around the store, and spotlights competed with fireworks outside. An uncelebrated 7-Eleven sat blocks away, so I stepped in to give the Squishee and donut a try.
If you like this story, consider signing up for our email newsletters.
SHOW ME HOW
X
Newsletters
The Blue Vanilla drink was passable, but the donut tasted like plastic . . . and so much hype. No Apu behind the counter either, but Navi was there — and gracious.