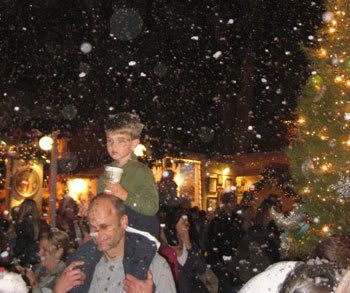 Laguna Beach Mayor Toni Iseman was on hand Saturday for the ceremonial lighting of the Sawdust ArtisTree to kick off the 17th Annual Winter Fantasy at the Sawdust Art Festival.
The younger sibling to the "Best of OC"-winning summer fest (check out pics here), Winter Fantasy features 170 artists peddling hand made jewelry, crafts, fine art, photography, and more. Keeping in the pro-arts spirit of Sawdust, hands on demonstrations of glass blowing, ceramic throwing and painting as well as face painting and crafts for the kids mean visitors not wanting to shop can just come and hang out.
If you like this story, consider signing up for our email newsletters.
SHOW ME HOW
X
Newsletters
Weekends through December 9th. Click the image for more photos from Saturday's event.