Santa Ana Potholes More Popular Than Bush
Wednesday, October 17, 2007 at 6:26 p.m.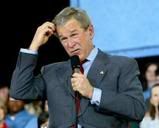 The new Reuters/Zogby poll shows that 76 percent of the country would probably have George W. Bush managing a date shake shop on PCH than serving as president. Only Richard M. Nixon attracted worse approval ratings and he ordered burglaries from the White House. Pollster John Zogby, a Republican, said, "[People] are giving up on this government." Who is laughing most? Sen. Hillary Clinton. Her approval rating jumped an impressive 11 percent to 46 percent in the last month. A slight majority believe that former Vice President Al Gore, fresh from a Nobel Peace Prize win, shouldn't enter the race. But don't get cocky, Democrats. According to Reuters, the poll shows "a paltry 11 percent gave Congress a positive grade." Perhaps the public is finally tired of meaningless lip service on critical issues. -- R. Scott Moxley / OC Weekly
Get the ICYMI: Today's Top Stories Newsletter Our daily newsletter delivers quick clicks to keep you in the know
Catch up on the day's news and stay informed with our daily digest of the most popular news, music, food and arts stories in Orange County, delivered to your inbox Monday through Friday.
Recommended for You
Powered by SailThru