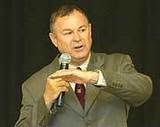 Jeffrey Ray Nielsen, a former Washington, D.C. aide to Congressman Dana Rohrabacher (pictured) and OC GOP boss Scott Baugh, was charged Thursday with 10 additional felonies in a second man-boy sex case, according to court records obtained by the Weekly.
Nielsen already faces pedophile-related charges for allegedly having an intense sexual affair with a Westminster, CA high school freshman he met in a gay sex chat room.
The new case involves a Virginia boy featured in a 2006 Weekly cover story that published copies of a series of passionate love letters from Nielsen. That boy says that while he was in the 7th grade Nielsen, who rented a room in the boy's home, repeatedly used him for sex in the 1990s. The new charges stem from this person's claim that Nielsen also molested him during a trip to Orange County, according to prosecutors. Among the witnesses in the Virginia case is an FBI agent.
Judge Luis A. Rodriguez issued a $100,000 arrest warrant for Nielsen on Thursday.
Earlier this year, a jury deadlocked in the Westminster case after several blunders by the DA's office and an aggressive performance by Nielsen defense attorney Paul S. Meyer. A retrial is set to begin within weeks. DA Tony Rackauckas has assigned a new prosecutor to the case.
Nielsen claims he privately met the California boy several times only to mentor him outside the presence of his mother, who was at work during several of the daytime encounters.
For background on Nielsen, go here ("NAMBLA Fantasy") and here ("Boy Crazy").
Though Rohrabacher hired Nielsen, 36, to serve him in the nation's capital for years, the Huntington Beach/Long Beach congressman angrily claims he doesn't know Nielsen. Baugh was one of Nielsen's best friends and had insisted that a prominent national law firm hire his pal before news of the Westminster high school case.
Nielsen's gruff father, Ben, is a former Republican mayor of Fountain Valley, CA.
If you like this story, consider signing up for our email newsletters.
SHOW ME HOW
X
Newsletters
After his arrest, Nielsen came out of the closet and has sought positive public relations by informing the media that he worked for a save-the-puppies campaign following Hurricane Katrina. The Orange County Register carried the publicity stunt without telling its readers that Nielsen faced child molestation charges.
A police search of his Ladera Ranch home recovered several hundred graphic images of man-boy and boy-boy sex on his computers.
In May, Nielsen pleaded guilty to driving under the influence of alcohol/drugs. A judge sentenced him to probation for three years, fined him and ordered him to attend alcohol abuse classes.
At a hearing this morning in Newport Beach, prosecutors notified Nielsen of the new charges. He was not taken into custody. A judge ordered him back on October 12.